Ever had an 'aha' moment? Where did it come from?
I had a most unexpected 'aha' moment this weekend and can't wait to share it with you a bit further down.
But first let me tell you how it came to me…
It certainly was not an 'aha' moment at the time – anything but!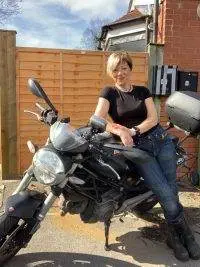 I was riding my motorbike down to Stevenage for a day of Trigger Point Pilates with Lydia Campbell and was unexpectedly delayed whereby the journey took me 7 hours instead of 4!!!
The traffic was crawling, the lanes were too narrow to weave in and out of, my Satnav stopped working and Google Maps was not having a good day (either!).
After getting totally lost in the windy country roads of Hertfordshire, and getting cold and wet as the weather deteriorated, I arrived at my Airbnb 3 hours late and a miserable, exhausted, nervous wreck!
This wasn't the first time that I wondered whether too long in the saddle would end up in disaster. Would I skid into a ditch, get stranded in the middle of nowhere or totally cock it up and kill myself!
A nightmare journey was followed by a restless night cursing myself for not having driven down in the car and stressing that I would be too tired to benefit from the workshops – that my trip had been in vane – a waste of time and a waste of money.
At 3am it came to me!  That 'aha' moment!   I suddenly realised that my bad experience had indeed been a gift.  That a potential Disaster was in fact a Diamond!
Out of my comfort zone I needed to dig deep to keep going, to find the mental and physical strength to hold it together.
In the morning I felt powerful and able to take on the world and I found the insight to see what was important to me in my life and what was not…
In my younger years, getting out of my comfort zone was an adventure.  Now, in my 60's I'll admit that it is a bit scarier.   However, I know that if I stay surrounded by comfort 24/7 I will not be challenged….and it is challenge – both mental and physical – that keeps us strong, that prevents us growing 'old' as we get older.
As I lay there 3am on Saturday morning, I realised that it was the adventures – the challenges – which had shaped my life and made me who I am today and that it will also be the adventures and challenges of my life going forward which will decide whether I live my best life until I die or whether I wither into depression, disability and decline.
Once we get over 50 the saying 'move (and use) it or lose'becomes even more relevant as does 'the less we do the less we are able to do'.
What Diamond moments have you experienced?  Pop them in the comments box below, Direct Message or Email me and please share this article if you think any of your friends, family or colleagues would like it and let's enrich our lives with the experiences of others.
Anita 'Bikaholic' Dawn