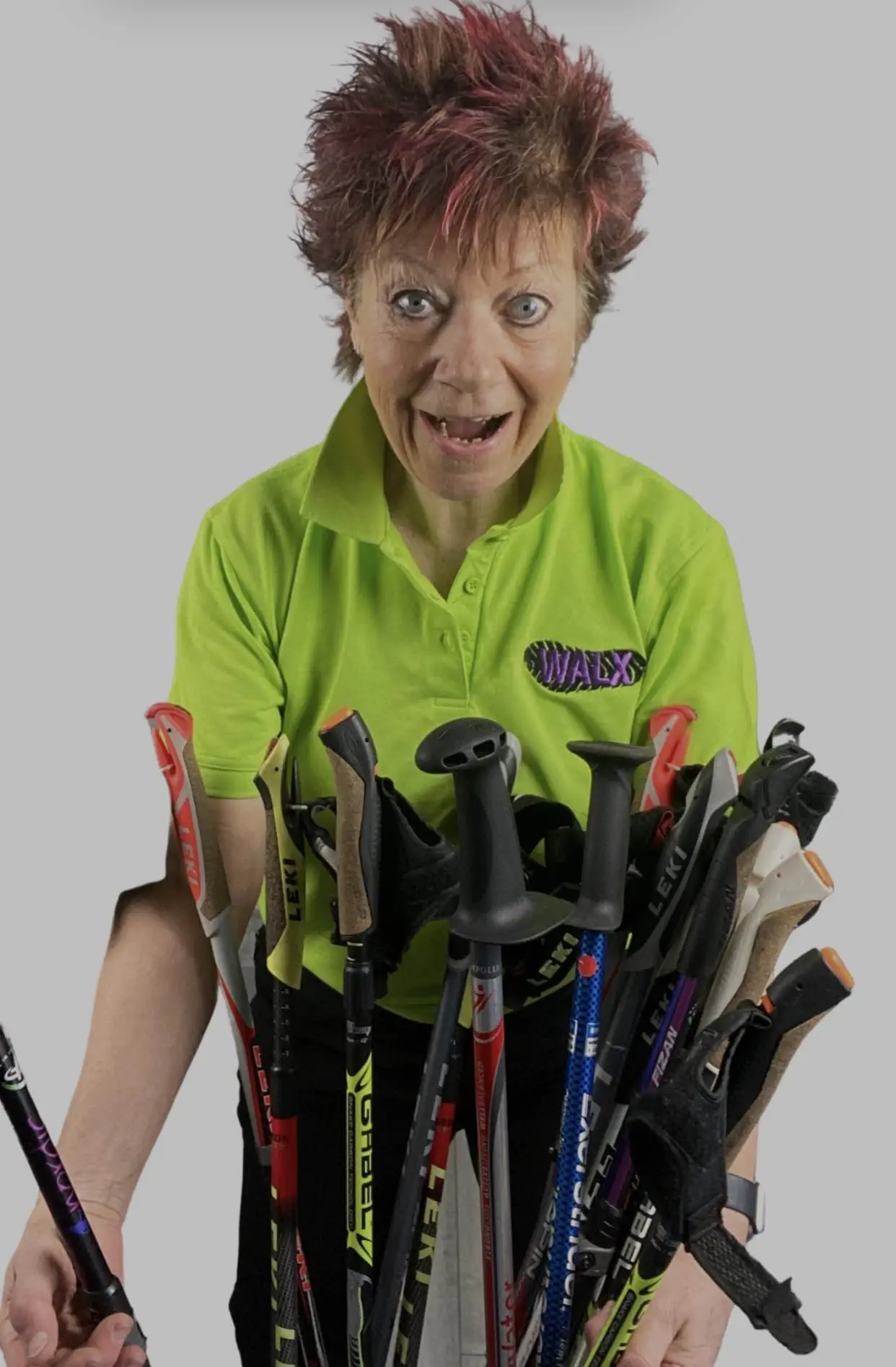 'LEARN TO NORDIC WALK'
4-week / 4-hour course
Session one
The fundamentals of Nordic Walking technique.  Gaining forward propulsion from the poles by engaging the correct upper body muscles, understanding correct gait and co-ordination.
Session two
Mastering handgrip and use of the pole straps in order to develop technique.  Adapting the body position and pole angles for walking up and down hills
Session three
Adding more speed through improved technique, understanding how your body reacts to exercise and learning how to stay within your comfort zone.
Session four
Improving posture and understanding how to use technique, distance, speed and terrain to constantly ensure you get the most out of your Nordic Walking!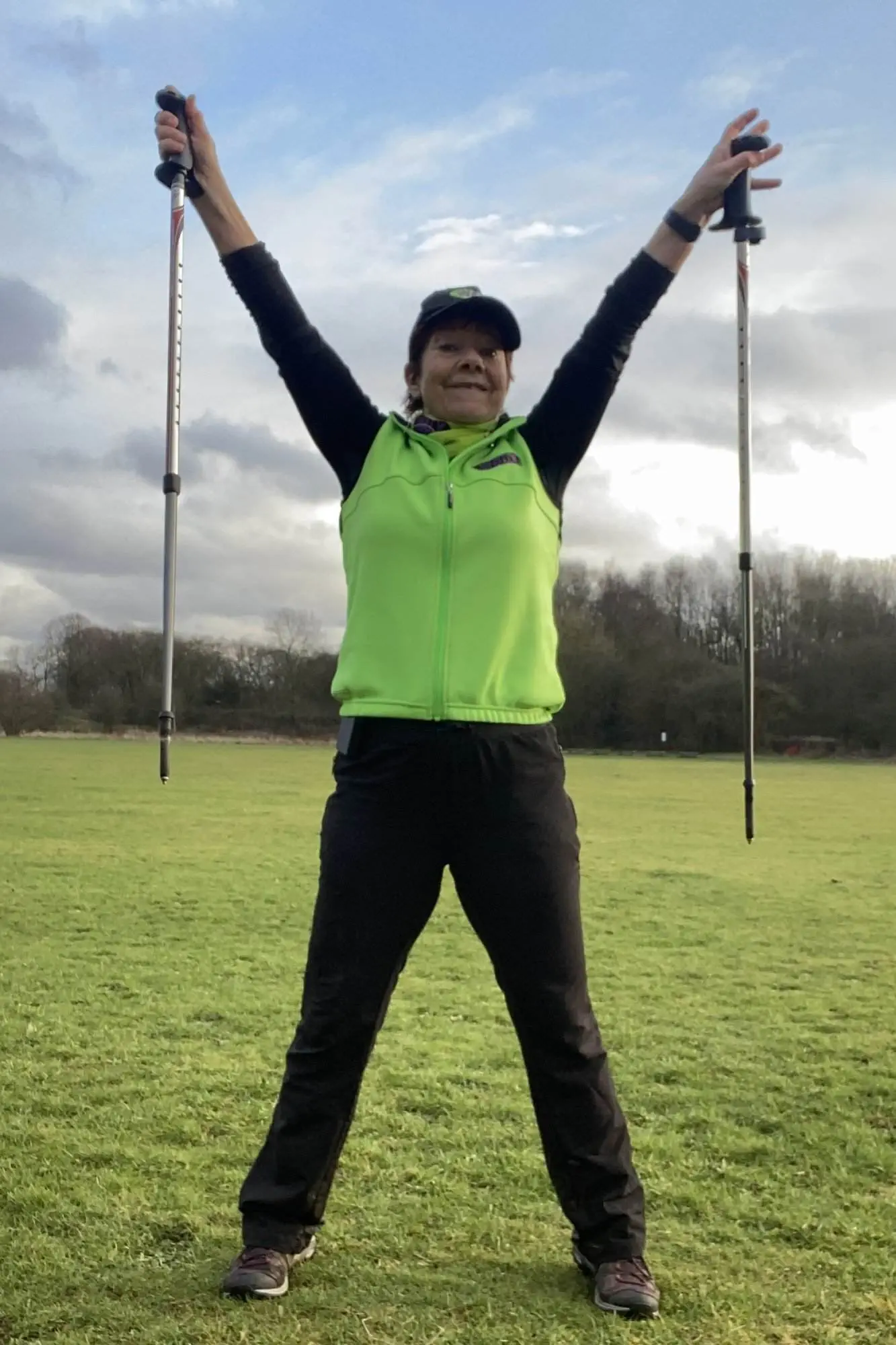 Click on Button below to Book
NORDIC WELLBEING & WORKOUT WALKS
WEDNESDAYS 2-3PM
This is a weekly Nordic Wellbeing Walk on relatively flat ground at an easy/moderate pace
SATURDAYS 12-1.30 PM
This is a weekly Nordic Workout Walk on flat to occasional undulating ground at a moderate pace
Start Location may vary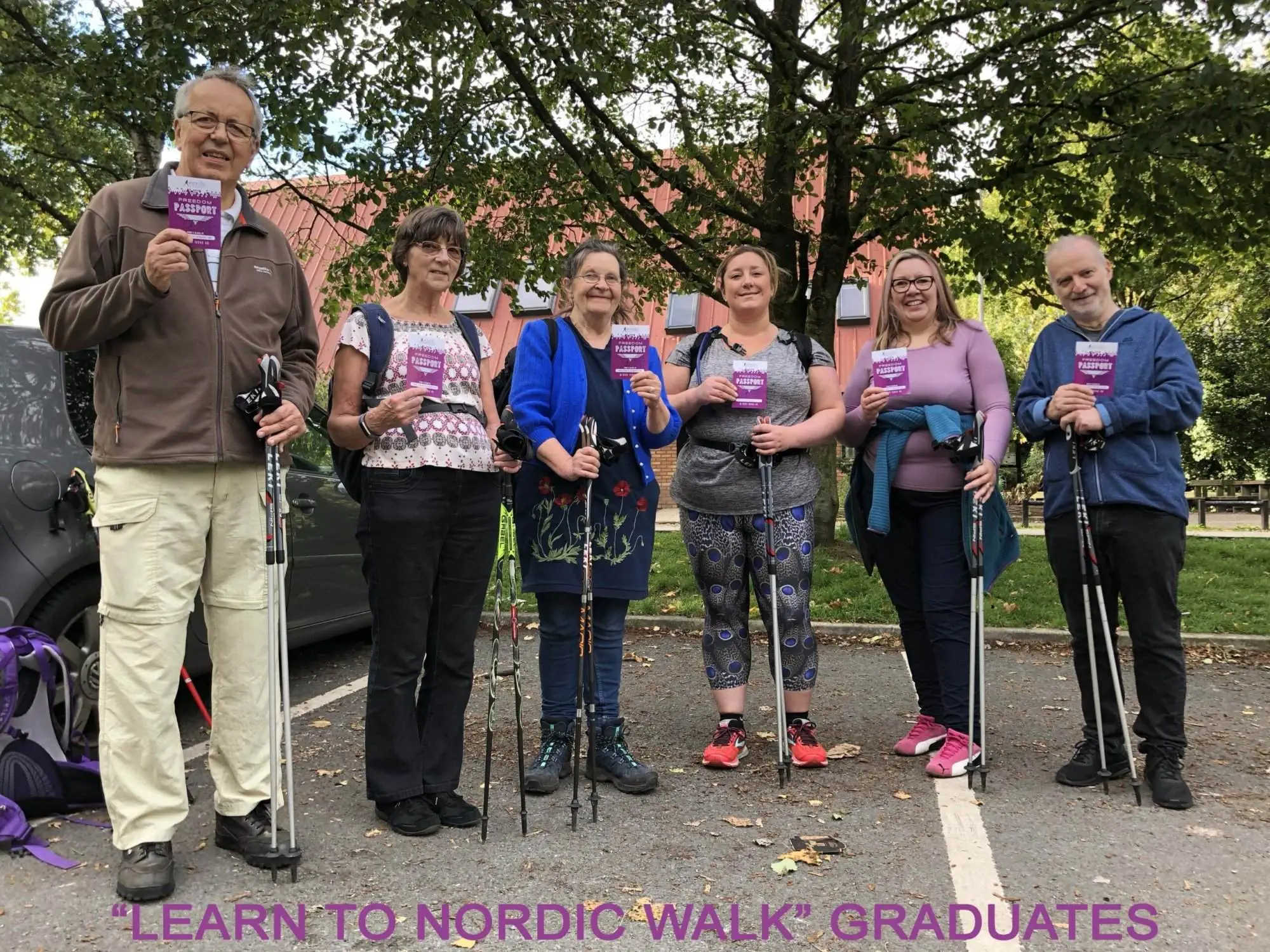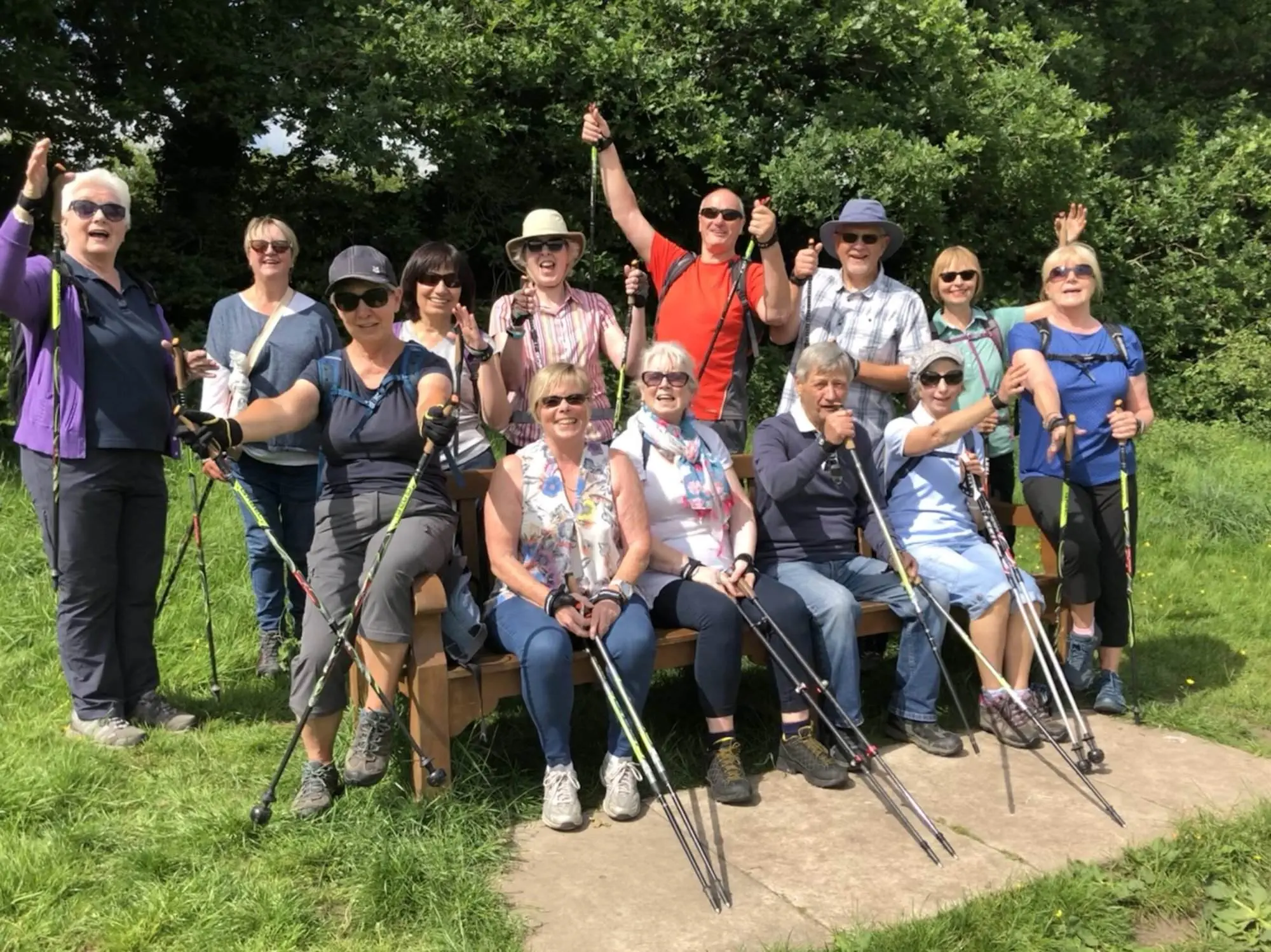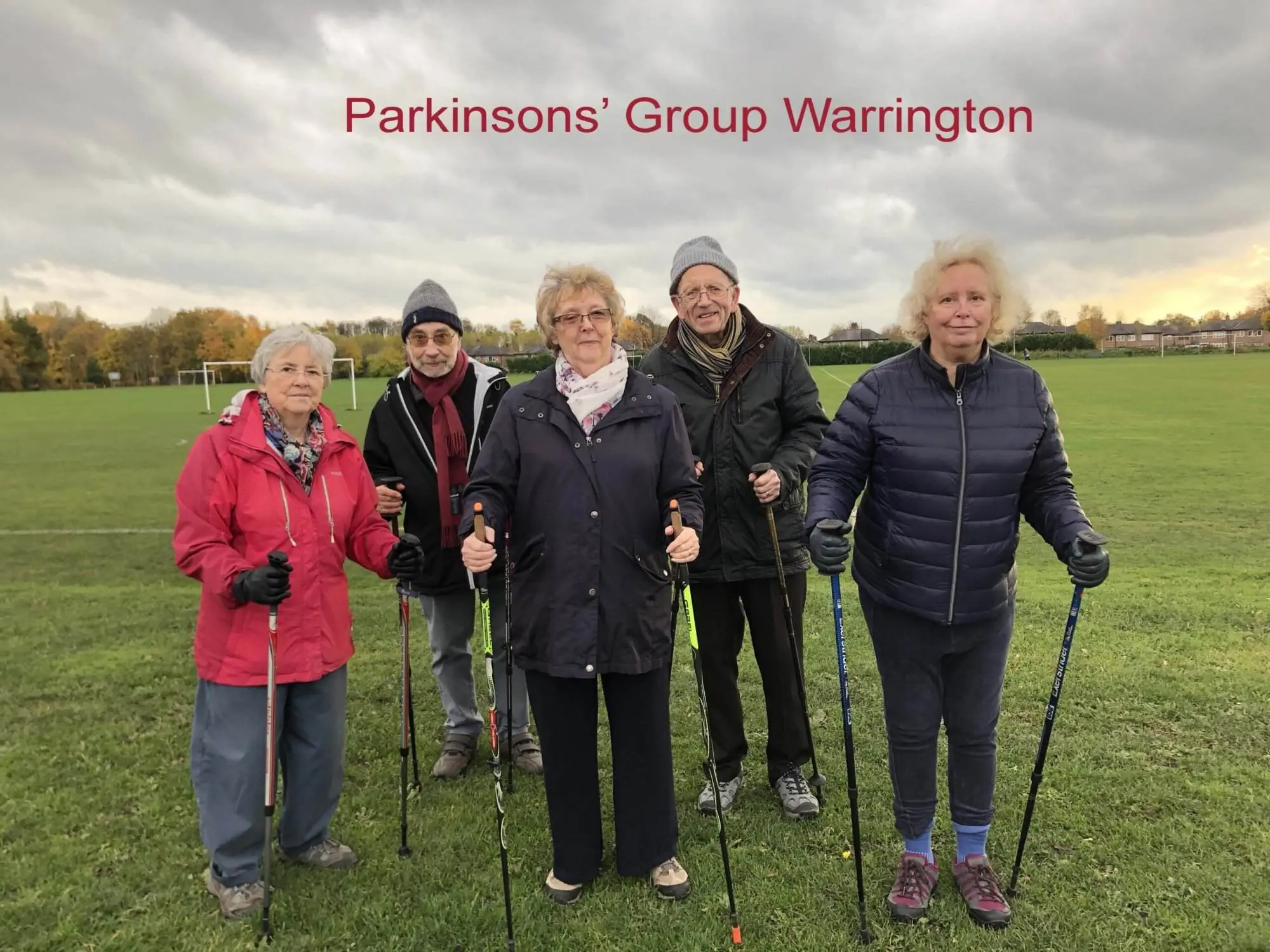 Nordic Walking is an enhancement of ordinary walking – it makes something we can all do… twice as effective! Nordic Walking uses poles in order to add three major benefits to walking.
The use of poles means the upper body muscles are used as well as the legs.  This gives a full body workout which burns more calories.
The poles create stability when walking on uneven ground, when people suffer from poor balance or when walking on a slippery surface such as ice or mud.
The poles take weight off the hips, knees and ankles which allows people who are rehabbing from an injury, or joint replacement to walk more easily, further and slightly faster.
The poles can be used to propel the walker along – this means he/she works harder than usual yet the support given by the poles makes it feel easier!  It's possible to cover twice the distance on your usual walk.
Nordic Walking can be done by anybody, anywhere and does not require expensive equipment or clothing.
Nordic Walking is first taught using urban poles which have a ledge instead of a strap to support the hand.
Some people prefer to stay with the strapless urban poles and others, who are looking for a fitness activity to increase cardiovascular fitness, transition to Nordic Poles using a strap for support instead of the ledge.
Both sets of poles place a lot of importance on the natural alignment of the wrist.
In order to get the most out of the poles, its important to join an introductory session.  These last 90 minutes and include the use of urban poles with the option to try Nordic Walking poles at the end of the session to see which they prefer..
After your introductory session you will be able to join a regular Urban Poling/Nordic Walking Group.  Groups vary from wellness to fitness walking and usually take place in scenic countryside and on pathways.
How & Why I Started Nordic Walking
"Take up Nordic Walking?  No Way!"  I said.
When I returned to the UK in 2010 after working and living overseas, I was recommended by my peers to add Nordic Walking to my instructor tool box.
I was totally not interested in walking with poles….until I tried it. I was amazed at what a good workout it was and how it made regular walking so much easier… The rest is history.
I now use my poles religiously when I go on challenging walks and have been teaching Nordic Walking for over 10 years.
Where Does Nordic Walking Come From?
Nordic Walking owes it roots to cross country skiing, used as a summer training exercise for skiers to maintain their fitness during the snowfree months. But don't panic! It is as easy or as hard as you want to make it!  However, it is important to be taught the correct technique using proper Nordic Walking poles in order to enjoy effective and safe walking (see course information below).
Why You Should Choose
Nordic Walking
If you answer yes to any of the following then Nordic Walking is definitelty for you!
• Hate going to the Gym
• Feel lethargic and sluggish
• Want to lose a few pounds
• Want to feel more toned
• Want to feel better about yourself