"STRONG" FOR ACTIVE WOMEN OVER 60
9-9.45am TUESDAYS streaming LIVE via Zoom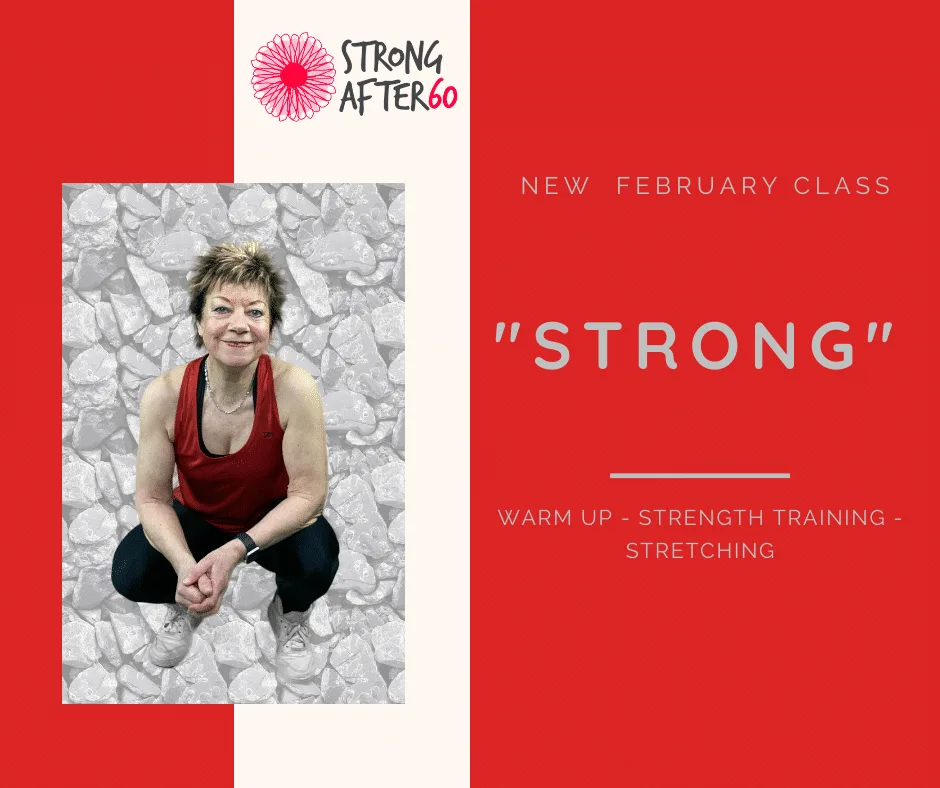 What Type of Class is STRONG?
This is a new programme were you'll be….
Stripping strength training back to basics
Getting alignment right
Gradually introducing resistance
Equipment options
Showing how to increasing overload
Demonstrating slow progressions
Maintaining safe workouts
Exercising effectively
Strengthening for every day life, favorite activities, lifting grandkids
Avoiding disability
Keeping bones strong
Here's How You Can Join Us?
Attend LIVE classes via Zoom (£20/month)
You're advised to attend these classes live via Zoom where I can make sure that you are doing the exercises correctly and you have the opportunity to ask questions if in doubt about something.
In order to join this class you need to sign up to a Monthly Payment Plan.  You can cancel at the end of any month.
Access to class recordings (£10/month)
If you are new to strength training and using resistance, you are advised to work your way through these sessions from #1 and watch/do them in order for the safest and most effective way to get results.
Note:  It is VERY easy to get injured due to poor exercise technique and unsuitable resistance.
You can find previous sessions in the Membership Site accessible by paying £10/month.
Replay of LIVE sessions are available only in the Membership Site.
Recommendations
Join the LIVE sessions only if you have already done the previous sessions, unless you are familiar with and have done strength training (also called resistance or weight training) before.
Note:  if you enter a class at the wrong level, you may injure yourself and also disturb the class.
Denise Gilbert, member of Sale Pilates since December 2019 (70)
"Really enjoyed the warm up routine in the first STRONG class this morning,  and it was very useful to check my technique when doing the types of exercises that I will be doing in future classes. Also now have a better understanding of focusing on the area that I am working on strengthening. Am really hoping classes will help me reduce the normal loss of strength that comes with age!"
Susan Smalley, Personal Training since December 2019 (73)
"My osteoporosis was diagnosed in late 2017. Although I had no physical symptoms I knew that I needed to do more than the regular walking that I was already doing. It took several months to find Anita via a recommendation, so glad that I did! After an initial consultation I booked six 1-1 sessions (she was very flexible in fitting them in with my visits to another place in Sale) where she devised a 'keep your bones strong and healthy' holiday regime. I love Anita's approach to everything, her energy, drive, enthusiasm and passion for what she does, she does with humour. I had joined a local gym when I was first diagnosed (I live in Chorley) but began to feel that what I had been advised to do wasn't quite right. I asked Anita if she would be willing to come over and devise a proper schedule for me. Over a period of 2-3 years she has been with me to the gym and tweeked and changed my programme to maximise the benefit for me. We also revisited my 'holiday programme' and she added a video for me to follow which has been invaluable, especially during the lockdowns when I've not been able to go to the gym. I would have no hesitation to recommend Anita, she excels at what she does and has hugely helped me to keep my osteoporosis at bay."
Joanna Gregson, member of Anchor Point Pilates™ since December 2019 (37)
"I have been doing Pilates for several years and last year I decided to try Anita's classes. I was looking for something more personalised, something that would challenge me more and help me become stronger. With Anita's classes I found exactly what I wanted! Due to small group sizes and her amazing memory of everyone's needs (injuries, conditions and different experience levels) the exercises feel personalised, almost like having a 1 to 1 session. Since the start of the pandemic I have been doing the Anchor Point Pilates class, which is great for improving strength in a safe and interesting way. I am amazed by how Anita manages to see if you are doing the exercises correctly when this is an online class! If you think you can cheat and a have a lazy posture, you are wrong! I would certainly recommend the Anchor Point Pilates class for all experience levels."
Jan Moore member of Sale Pilates since 2019 (67)
"I joined Anita's classes just over a year ago. I'm awaiting hip surgery and have found the pilates classes brilliant for maintaining my mobility and relieving pain. I love the classes as Anita always builds each exercise up through different levels and takes time to check you are safe and within your abilities, whilst providing a bit of a challenge too. Every class is so different – there's never any danger of getting bored! And having the classes recorded so you can revisit later is so helpful. Can heartily recommend especially if you are looking for a trainer committed to helping you age healthily and happily"