INTRODUCTION TO PILATES
Coming soon
Introduction to Pilates course for Beginners or Improvers who want to review the what and the why of Pilates.
During class there is a lot to take in, with the main focus being on movement/stability.  If you'd like to have a deeper look into technique and the reasons why we teach the exercises we do and how they will benefit you, then this Workshop is for you.
Places limited to 6 persons so SIGN UP TODAY to avoid disappointment
INTRODUCTION TO THE REFORMER, TOWER & CHAIR
WORKSHOP  
Parts 1 & 2
Part 1  Coming Soon 
Part 1 provides an understanding of the benefits of studio equipment, the set up and safety elements.  Basic exercises will be introduced.  An understanding of Pilates basic principles will be an advantage but not essential.
Places are limited to 4 persons
If you want to join a Small Group Studio Equipment class you will need to attend Part 2 as well.
Part 2: Coming Soon 
Part 2 builds upon the basics learnt in Part 1.  A series of essential exercises will be taught and practised.  Upon successful completion of Parts 1 and 2 students will be able to join a Small Group Studio Equipment class.
Part 2 will include a 30 minute video of the exercises covered and required to know prior to joining a Level 1/2 class
Places are limited to 4 persons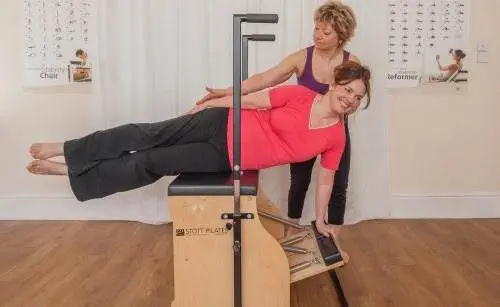 PILATES ON THE BALL
COMING SOON
Spice up your Pilates exercises by using a soft ball.  In this Workshop we will be looking at the different ways you can use the ball to add benefit, variety, and fun to your Pilates sessions.  Sometimes the ball will assist and sometimes make an exercise more challenging.  The ball is also a great tool to strengthen the core through creating imbalance in alignment.  This workshop is suitable for all levels, although attendence of Pilates classes prior to the Workshop will enhance your workshop experience.  A 6″ soft ball is included in the workshop price